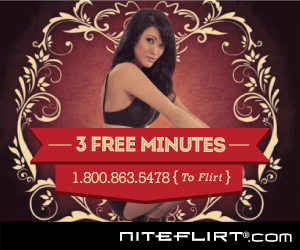 10 years after my feminization, I found myself more confused than ever. I really wanted to talk to something about the amazing things that happened to me back in college, but the question was always who can I talk to? I couldn't exactly tell my guy friends and it wasn't something I would ever dream of bringing up with most of the girls I dated.
Then one day in July of 213, I met a woman online in a totally non-sexual way who made her living doing erotic feminization hypnosis on Niteflirt, I had never heard of this place and thought of phone sex as heavy breathing and then the next day finding out that the Russian mob had charged stuff to your credit card.
I started calling and like anything, I found some real duds, but I also talked to some great women who l loved talking to. One of the women, was actually the one who encouraged me to start writing my experiences leading to my second career writing erotica.
Recently, I've been encouraged to become a Flirt myself. I look at it as another way to sell my stories that aren't exclusive with Amazon. I'm even recording a few voice files to sell. I'll also take occasional calls, but I still am not sure where I fit yet. I'm submissive to women, but I'm targeting guys calling. Mostly, I want to talk about my experiences and discuss their experiences and fantasies with them. We'll see how this works. I'm going in cautiously, but I'm definitely taking the plunge.